Nearly a year after the Hermits Peak/Calf Canyon fire destroyed adobe homes that had survived for centuries, and millions of acres of forestland that sustained many, families are still struggling to find their footing.
MORA COUNTY, N.M. — Benito Sanchez has been living in an Albuquerque hotel room with his ailing, 100-year-old grandmother for the past year after the state's largest wildfire burned their modular home to the ground.
A homeowners insurance claim paid Sanchez $70,000, enough to help with the groceries but not enough to buy another home.
Sanchez, 49, and his grandmother Tommie Carter, who breathes with the aid of an oxygen device, were among nearly 100 Mora County residents who were displaced, some of whom descendants of Indigenous people who lived off the land and settlers who put down roots in northern New Mexico in the 1800s.
"Let's just say everything you've ever accumulated was all of a sudden gone in one day because someone lit a match and it wasn't an accident," said Sanchez, a state employee who helps people find jobs.
The fire ignited on April 6, when a controlled burn went awry and became the Hermits Peak fire. That fire later merged with the Calf Canyon fire, which started when smoldering roots from a previous controlled burn spontaneously rekindled.
All told, the Hermits Peak/Calf Canyon fire chewed through more than 341,000 acres, torched about 62 million trees in Santa Fe National Forest and private lands and burned down 220 structures.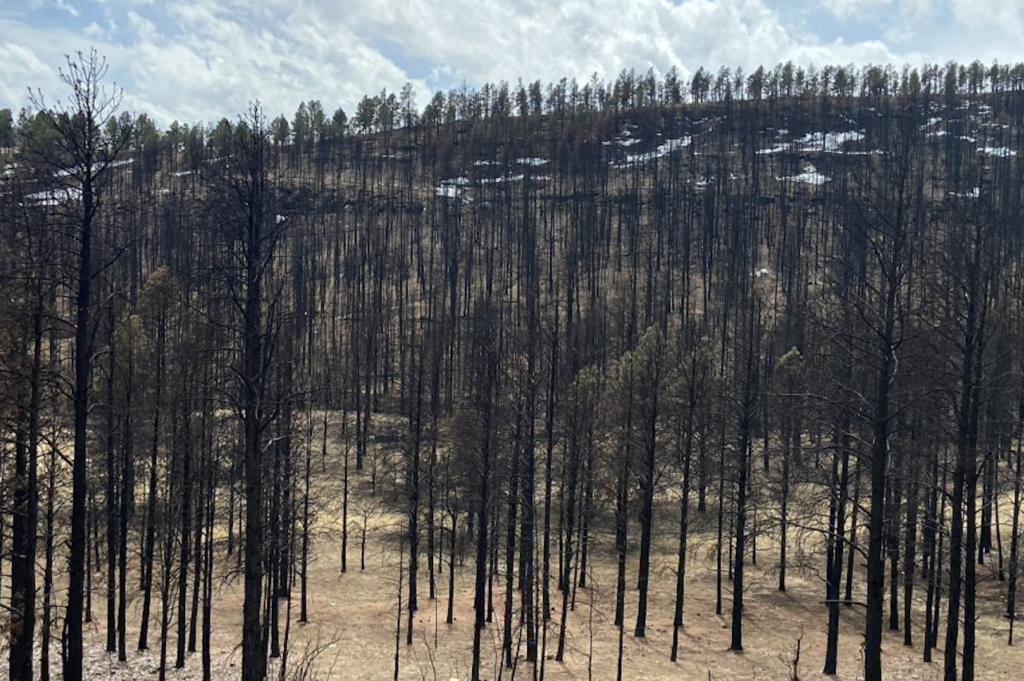 Mora County in northwest New Mexico took the brunt of the damage, the remnants of which remain strikingly visible. In the neighborhood of Real De La Casa, blackened trees, barren peaks and scarred hills mark the landscape amid an eery silence. Dirty, brownish water flows down streams, and beetles search for sap in the carcasses of trees. Rocks and stones cracked by the fire's heat are strewn about.
"All of the aesthetics have changed," said Mora County road supervisor John Romero. "All of the fish died from ash."
Officials said the tens of millions of dead trees could topple over and reburn. State forester Laura McCarthy said trees posing a hazard near roads would be cut down.
A way of life is lost
The massive wildfire all but extinguished a way of life rich in traditions that had been passed down for generations in the remote Sangre de Cristo Mountains, 2,000 square miles of forestland spread across northern New Mexico.
Indigenous people and settlers lived off the land, hunting deer and turkey for food, collecting water from natural springs and building mud-brick homes that were passed down to family members over the decades.
They developed a sacred relationship with the land, believing that if they took care of the hallowed grounds, the mountains and forests would take care of them, said state historian Rob Martinez.
Much of the once-abundant wildlife, such as bears, buffaloes, foxes and rabbits, which local hunters relied on for food or to sell, have fled the burned-out territory. Loggers, ranchers and farmers also saw their livelihoods go up in flames.
Officials in Mora County said they were still trying to determine how much financial damage the fire caused, but about 75 businesses were forced to close and an estimated 100 residents had to relocate.
Early data compiled by the Federal Emergency Management Agency and the New Mexico Department of Homeland Security and Emergency Management estimate Mora County sustained $29 million in damage, and losses statewide totaled $189 million. 
More than half the households in the county depended on firewood for heating and some for cooking, officials said, and they have had to convert to electricity or gas for those needs.
The U.S. Forest Service conducted the controlled burns to rid the forest of dry undergrowth that could fuel wildfires.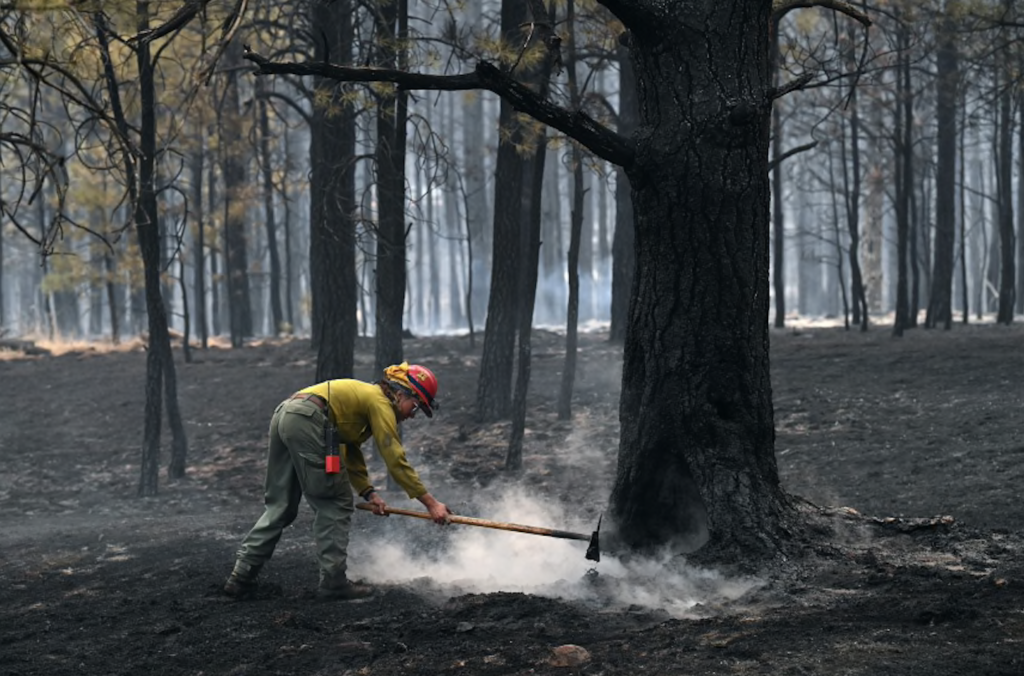 A lawsuit seeking unspecified damages was filed in June against the U.S. Forest Service in U.S. District Court in Albuquerque. Originally, about 50 plaintiffs were party to the suit, but hundreds more later joined. The lawsuit was dismissed after the Hermits Peak Fire Assistance Act was passed, which will help compensate people who suffered damages.
"This was a real catastrophic loss in an area that's really difficult to rebuild in," said Antonia Roybal-Mack, an attorney for the families. "They didn't ask for this. These were generational lands. It's gone now. The federal government started a fire on a windy day and burned 341,000 acres."
The act, signed by President Joe Biden in September, provides $2.5 billion in compensation to New Mexicans and tribal nations affected by the fire. Another $1.45 billion was included in the Consolidated Appropriations Act, a spending package that in part helps fund rural housing loans, rental assistance and infrastructure.
Some residents who lost their homes received a maximum $37,900 in disaster relief funds from FEMA.
'Nobody is coming to our rescue'
For 51 years, Mora County resident Tito Naranjo, 85, and his wife lived in their adobe home on 100 acres containing four natural springs and two creeks that joined below his house. Deer, bears and rabbits lived among the pines and aspens, and eagles soared above, hunting for prey.
"There were herds of turkey, up to 100 of them," said Naranjo, who has been living with his son near Santa Fe since his house burned down. He said FEMA denied his application for emergency support after concluding he did not permanently reside at the house.
Although Naranjo never received a formal explanation, a FEMA official said claims can be denied for many reasons, including not having proper documentation.
"We got absolutely nothing from FEMA," Naranjo said. "Not one penny."
Patrick Griego, 63, lost 400 acres and 72,000 trees, putting a financial strain on his business selling logs to companies that make flooring.
He estimates his company, Griego Logging LLC, will lose up to $700,000 every year he remains in business because even if he replants, the trees will not grow large enough to harvest in his lifetime.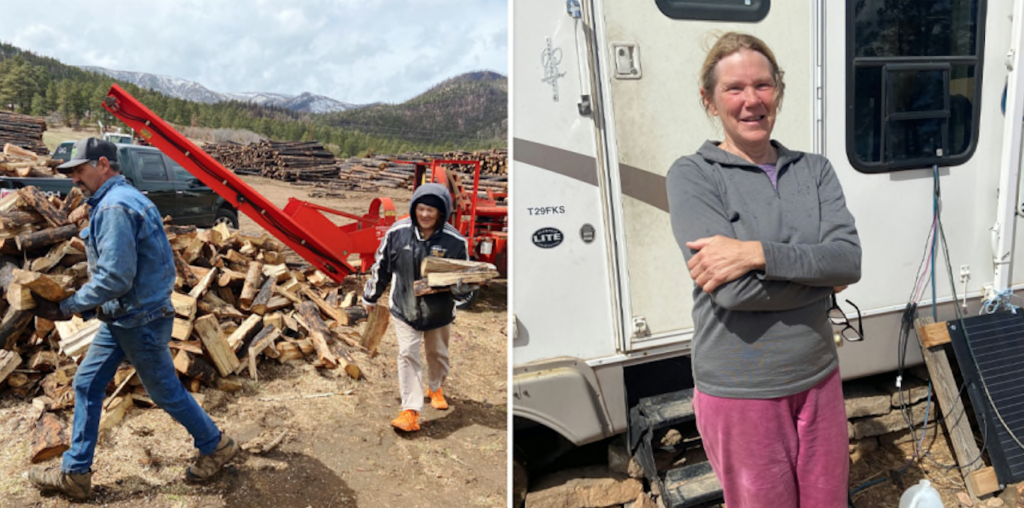 Kathryn Uehlein, 65, lived in an uninsurable yurt on 36 acres she owns, but both the land and the dome-shaped tent were destroyed in the wildfire. She now sleeps in a recreational vehicle donated by a local woman and uses solar energy for electricity. She said she received $2,000 from FEMA.
"It was crumbs," Uehlein said. "I have no money. Nobody is coming to our rescue, and the government started the fire."
Tina Grine-Martinez, 69, said she received $300,000 in homeowners insurance after living in a home she inherited from her father.
"We're a lot better than what we were a few months ago," she said, adding that no amount of money will replace the spiral staircase her father built by hand, using a chainsaw, hammer and nails.
"All the memories were there," she said. "It's really heartbreaking."
Deon J. Hampton
Deon J. Hampton is a national reporter for NBC News.
Source: https://www.nbcnews.com/news/us-news/way-life-extinguished-new-mexicos-largest-wildfire-rcna75953