NEVADA AIR NATIONAL GUARD BASE, Nev. — The National Interagency Fire Center (NIFC) has requested one C-130 aircraft equipped with Modular Airborne Fire Fighting Systems (MAFFS) from the Nevada Air National Guard to support wildland firefighting operations in support of NIFC in several western states. The 152nd Airlift Wing aircraft will replace the 153rd Airlift Wing out of Wyoming Air National Guard from Cheyenne, Wyoming, and join the 302nd Airlift Wing, Air Force Reserve Command, Peterson Space Force Base, Colorado, which were both working with the USDA Forest Service and other state and federal agencies fighting wildfires across the west since August 3, 2023.
All MAFFS units will initially be based out of the Klamath Falls Airtanker Base in Klamath Falls, Oregon.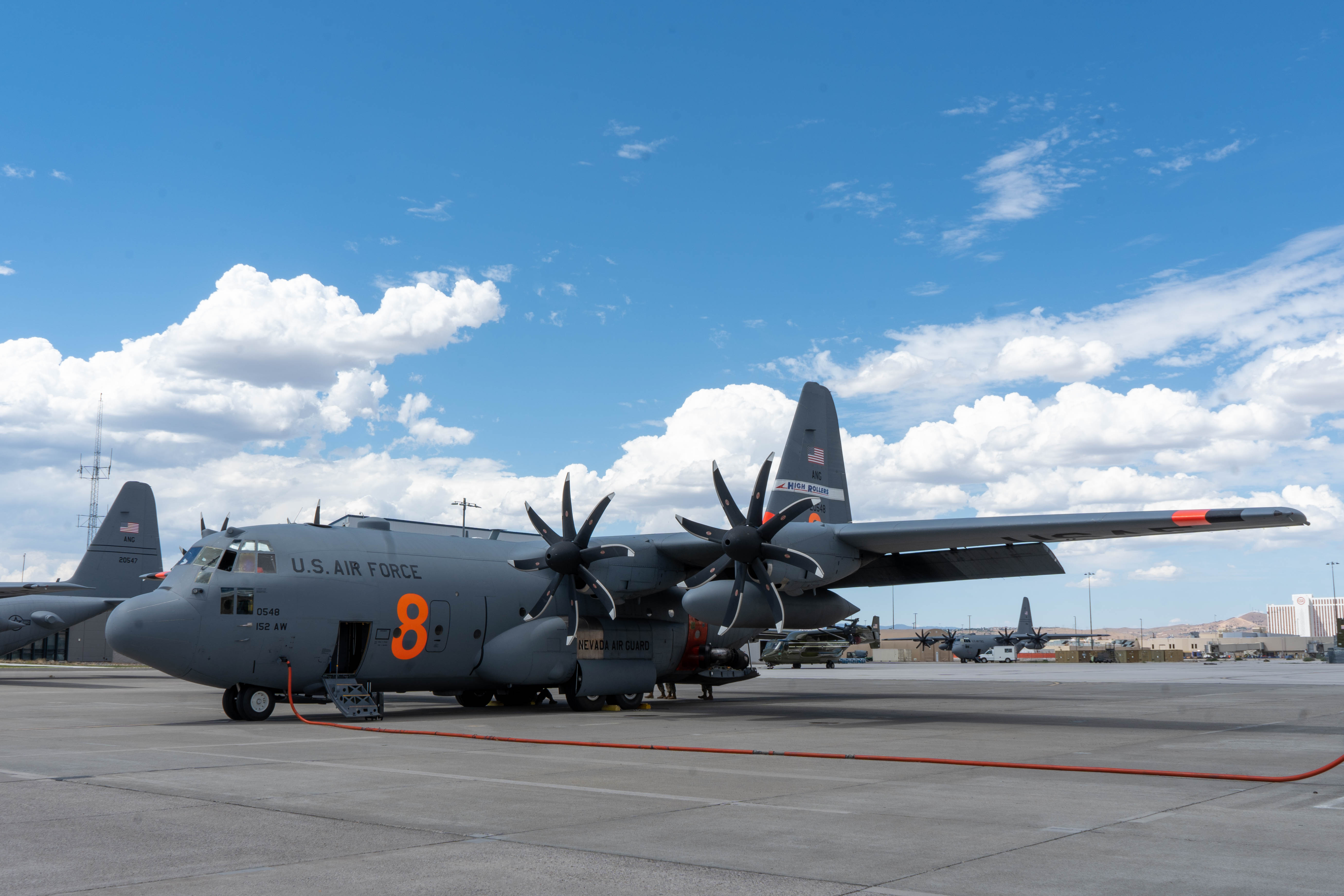 Having military C-130s that can be converted into airtankers provides a critical "surge" capability that can be used to bolster wildfire suppression efforts when commercial airtankers are fully committed or not readily available.
A long, wet winter made conditions ripe for a late fire season this year, and the High Rollers are ready.
"The 152nd Airlift Wing, Nevada Air National Guard, proudly supports the aerial firefighting mission," said Lt. Col. Patrick Sargent, the Commander of the 192nd Airlift Wing. "We've dedicated people, aircraft, and training to this mission and we are determined to help the nation and assist with this effort.
First Air Force – Air Forces Northern (AFNORTH) headquartered at Tyndall AFB, Fla., U.S. Northern Command's Air Component Command, is the DoD's operational lead for the aerial wildland firefighting military efforts. The team is committed to excellence through training and interagency relationships.
So far this fire year there have been 85 fires reported burning 546,988 acres in 12 states across the nation, according to the NIFC website.
The initial request lasts through the end of August. The High Rollers initially activated last firefighting season from September 6-14, 2022, flying 4 sorties, accomplishing 5 drops accumulating 8,087 gallons of fire retardant.
Air tankers are used to help build lines of containment with retardant to help reduce the intensity and slow the growth of wildland fires. Dispatch centers deploy aircraft to drop fire retardant based on requests from civilian Incident Commanders.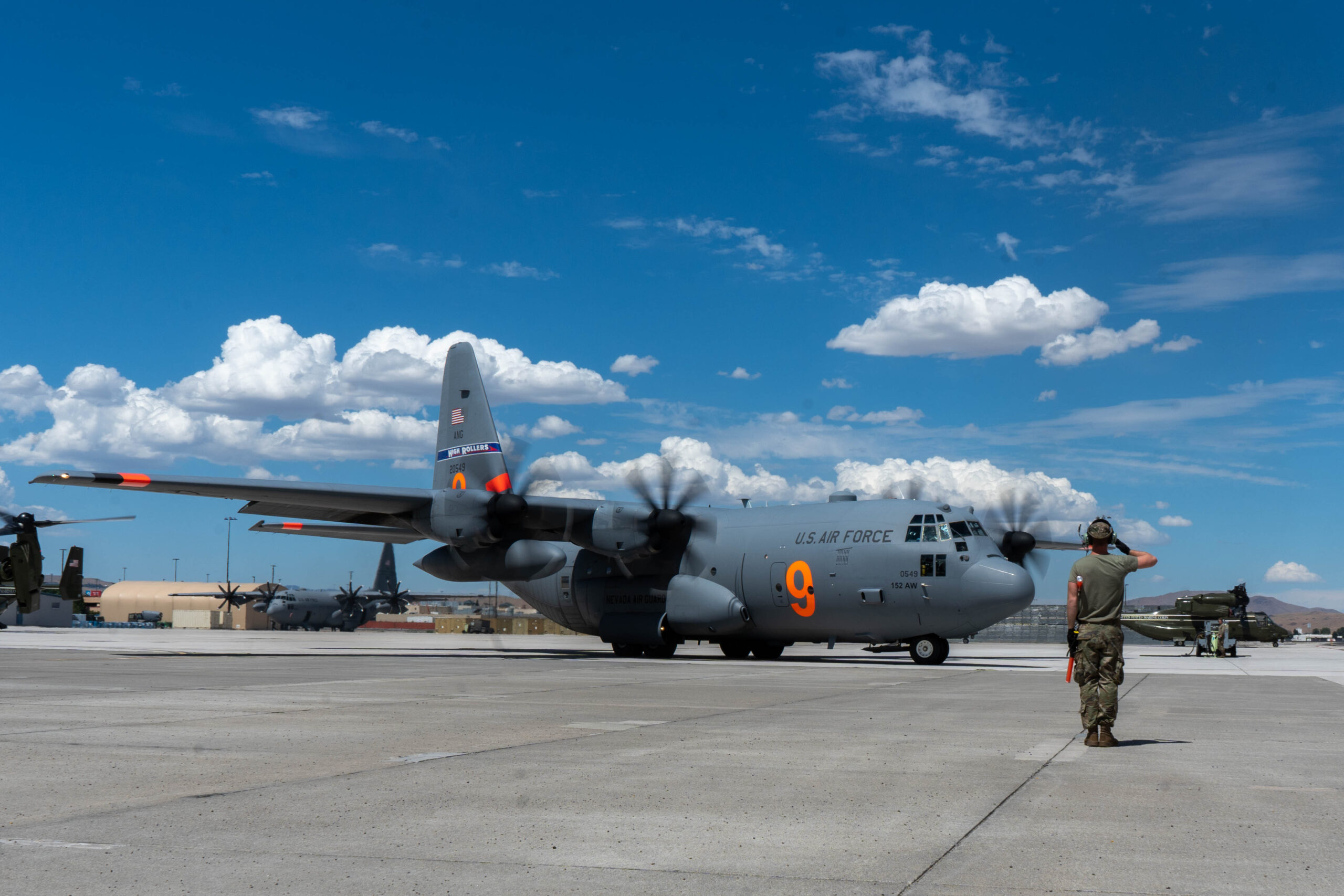 The MAFFS aircraft can drop up to 3,000 gallons of fire retardant in less than 10 seconds across a quarter-mile line. The system slides into the back of the military aircraft, and retardant is released through a nozzle on the rear left side.
NIFC is the nation's support center for wildland firefighting. Eight different agencies and organizations are part of NIFC, including the Bureau of Land Management, Bureau of Indian Affairs, U.S. Fish and Wildlife Service, National Park Service, U.S. Forest Service, National Weather Service, U.S. Fire Administration, National Association of State Foresters, and state emergency response agencies.
For more information on Modular Airborne Firefighting Systems, visit: https://www.fs.usda.gov/managing-land/fire/planes/maffs
For background photos and videos of the MAFFS program, visit: www.dvidshub.net/feature/MAFFSAEG.